Whether you've been confused by their name or puzzled by their advertisements, odds are you've heard about GoDaddy. GoDaddy is one of many website hosting platforms available for people interested in creating their own little virtual space on the internet. Business owners and organizations especially appreciate GoDaddy and its range of options for website development and customization. But while the allure of GoDaddy's marketing has definitely succeeded at capturing public interest, are they really the best option for website hosting and development?
In this article, we will look at the features and functionalities of GoDaddy and several of its competitors. Popular website hosting vendors like Bluehost, Domain.com, Dreamhost, Network Solutions, and HostGator offer similar services to its clients. We've done the job of analyzing them based on multiple factors, so you don't have to.
Jump to:
About GoDaddy
GoDaddy provides its users with a structured system for building websites and online digital spaces. Their drag-and-drop website creation system grants members an easy, user-friendly experience, and their unlimited disk space lets members limitlessly execute their ideas.
For those newer to website building, GoDaddy provides a variety of templates and customizable themes and mobile designing and editing. In addition, users can manage all of their online presences, including their website, email, and socials, from the GoDaddy integrated platform. At the same time, businesses benefit from their personalized marketing tools and the option to upgrade their memberships for e-commerce features.
Alternative Vendors
Who is GoDaddy's competitor, and do they provide better hosting than GoDaddy? To answer these questions, we have evaluated several of GoDaddy's competitors and alternative website hosting vendors to see how they stack up based on their features and services.
Bluehost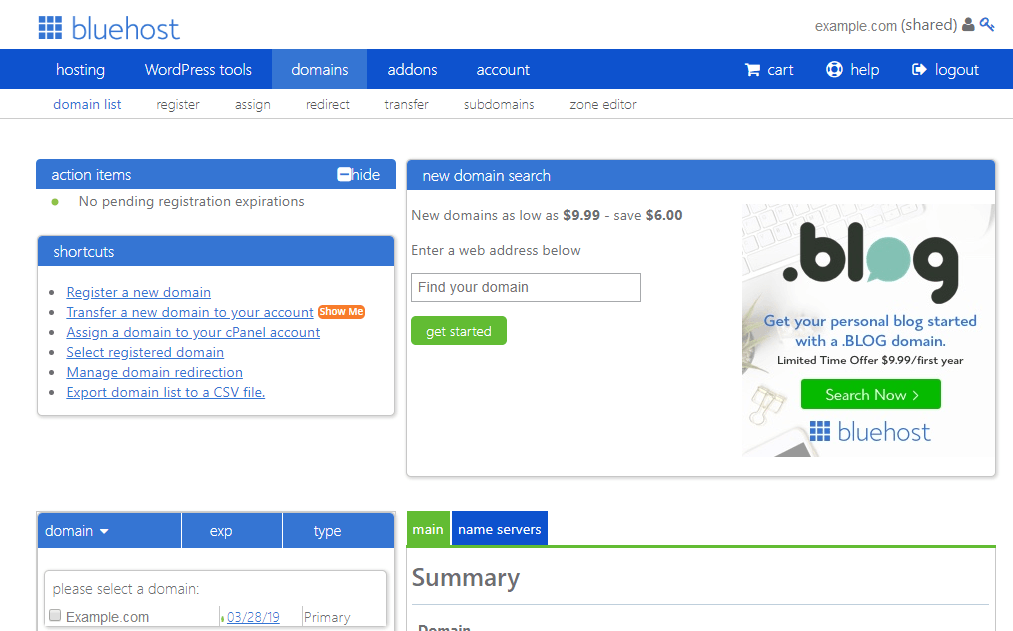 Bluehost is a drag-and-drop site builder with unlimited disk storage and data hosting. It is easy to use and customize with its intuitive control panel. Bluehost memberships include the general features of similar hosting platforms, such as a free domain for users, easy-to-use website creation, and WordPress integration. However, Bluehost provides more email accounts than GoDaddy as well as unlimited databases.
User and website data is safe with multiple disk data mirroring through their dedicated servers. Additionally, there are numerous other options for ensuring security, such as password-protected directories, IP address blocklists, digital certificates, and private key management. Users can decide which security measures they would like to take. The drawback is that they must do daily security backups themselves as Bluehost's services do not include automated daily security backups.
A great Bluehost feature for business needs is digital marketing services like advertising, website SEO, social media marketing, and business visibility. WordPress and e-commerce hosting options are available for users to make their business and marketing websites, and they boast a 99.99% uptime and Cloudflare integration for faster website loading. In addition, their features for ensuring speed and reliability make them a good option for users who want a website built for speed, customization, and reliability and do not mind the lack of automated daily security backups.
Domain.com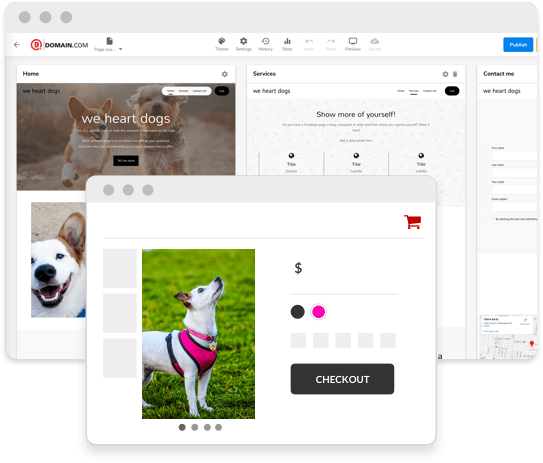 Domain.com supports its users with unlimited databases, FTP logins, and add-on domains. They also have hosting plans for shared accounts and WordPress hosting. Shared hosting plans are available for higher-tier memberships and allow users to host multiple websites on a shared server. Users can also create unlimited subdomains and utilize the free cloud storage and scalable bandwidth through the system.
The platform has dependable uptime and free domain registration for one year. Furthermore, it takes care of security for its users through free SSL certificates, so users and business owners especially can feel safe in their website transactions. Their security also includes a password-protected directory for easy and secure access.
While Domain.com has many great features, they fall behind when it comes to accessibility and integration. For example, their system has WordPress hosting but lacks options for Windows-based, cloud, reseller, and dedicated servers. But if that doesn't deter you, you can use the software's ecommerce tools, unlimited storage, and WordPress hosting capabilities to help your business thrive.
DreamHost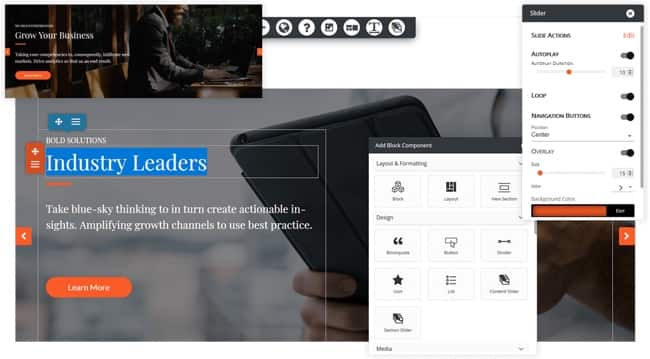 DreamHost provides users with unlimited internal storage and bandwidth as well as content and email management capabilities. Security is taken care of with a free SSL certificate for every site hosted. Additionally, users are protected by the software's auto backups, which saves website data automatically.
One of the best features of DreamHost is its ease of use from the start. Their one-click installation process means that new users can get started with their website building fast. They have various app integrations, including WordPress sync, and their file transfer protocol (FTP) is a part of the installation process. In addition, their intuitive navigation set-up uses navigation trees to help lead their users to their destinations and provides preloaded themes for website building.
The platform is definitely designed for the average user's use, rather than an expert in website design. For example, they provide users with access to an administrator dashboard, which is less cluttered than a cPanel but offers fewer options. If you're a new user without much experience who values simplicity and limited features over-complicated customization options, then DreamHost might be right for you.
Network Solutions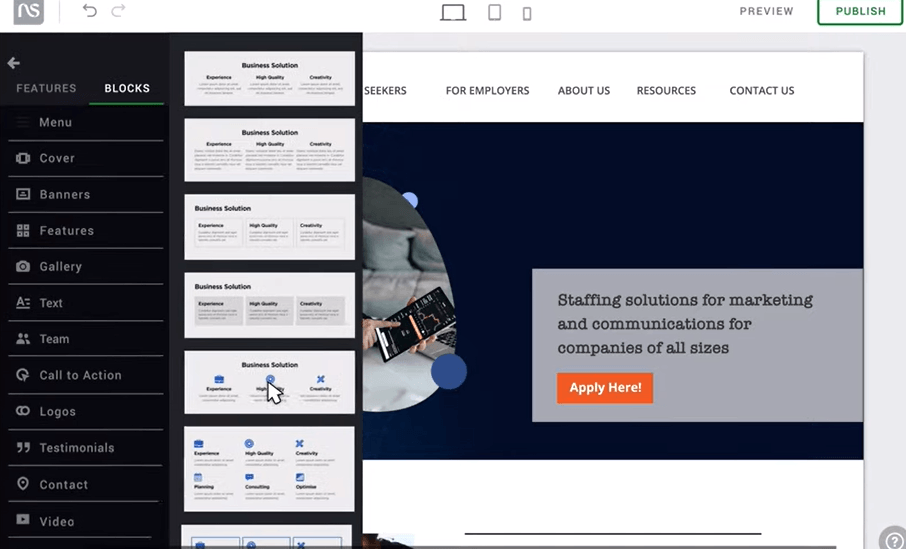 Network Solutions provides various features and services for users looking to develop and host a website. Through Network Solutions, users can select hosting packages based on their business size and needs as their system provides WordPress, Virtual Private Server, and shared web hosting. While it does have marketing services and e-commerce functionality, other types of websites can benefit from its web design and hosting features like email services, content management support, open-source application support, and multiple server options.
Network Solutions users can select their packages with UNIX (Linux) solutions or Windows solutions. They guarantee an uptime of 99.99% for Linux and Windows solutions, making both options extremely reliable. Packages also vary depending on the applications and features supported by either Windows or Linux servers.
DIY websites are quick and easy to create through their system. In addition to domain name registration and SSL certificates, they offer domain name transfer and website forwarding. Users can easily and securely move their sensitive website data onto their Network Solutions accpSecure Copy, FTP File Manager, and Secure FTP. Network Solutions is a good option for people looking to transfer their already-created website from one hosting platform to another or those who are decently familiar with their website hosting needs as the system is geared toward experienced users.
HostGator
HostGator is a good option for website hosting, especially for business owners looking to use a website to develop their brand. Their plans come with credits for advertising on Google and Bing, and their system can allow unlimited traffic to your websites.
HostGator is on top of security for its users and has business safety features aligned with the values of the majority of its users. This would include features like SSL certificates and the Virtual Private Servers, which keep sites secure and private. While smaller businesses can operate on shared servers, dedicated servers are also available. Large enterprises that require advanced online business security and more bandwidth can benefit from using dedicated servers, but this option does come at an increased cost.
Unfortunately, a lot of the unique features of HostGator come at hidden costs. For example, their lower-cost plans allow for just one domain rather than unlimited domains. However, the lowest plan still meets the basic hosting necessities for small business websites. Users also have access to the free content management system, various helpful resources for web development, and easy one-click integrations with other apps and tools.
Top Features of Web Hosting Software
Website hosting platforms offer different options and features to provide for the needs of their users. So instead of asking yourself "what is better than GoDaddy," consider which factors would be most helpful for you to have in your website building experience.
Ease of Use vs. Advanced User Options
Ease of use is important for users that are looking for simple and effective website building options. Features like one-click installation and intuitive navigation help users to make their sites quickly, with less confusion. However, these features may come at the sacrifice of advanced user options. For example, Dreamhost has an easy-to-use dashboard feature rather than a control panel that would allow for more website customization options.
Reliability and Speed
Web hosting platforms must be fast and reliable to keep your site running quickly and smoothly for visitors. Reliability can be calculated as a percentage that reflects the average uptime of a website's server. For example, Bluehost reportedly has a 99.99% uptime, reflecting reliable website functionality, and features like their Cloudflare integration help with website loading speed.
Shared and Non-shared Server Options
Some users may wish to utilize non-shared servers, usually referred to as private or dedicated servers. Generally, larger businesses have websites operating on their servers, which can improve their security and performance. However, non-shared servers can be more costly through website hosting platforms and may require more technical knowledge to operate.
Accessibility and Integrations
Accessibility and integrations are essential for sharing data and working with external systems. Many hosting platforms offer one-click integrations for programs like WordPress and other marketing and content management systems. However, Domain.com is an example of a platform with WordPress hosting, but unfortunately lacks options for Windows-based or cloud servers.
Data Synchronization
Data synchronization allows users to move their sensitive data onto their website hosting software to access and utilize it there. While a lot of hosting platforms have quick data synchronization options. Network Solutions takes it a step further, providing domain name transfer and website forwarding for their users.
How to Choose the Best Web Hosting Software
When considering GoDaddy alternatives, one should look for hosting platforms with comparable reliability, ease of use, speed/web performance, and additional features.
The best features for your needs may depend on the type of website you wish to build, your user experience level, and the magnitude of your operations. For example, if you have experience with website building and are planning to create a website for a large enterprise, look for software with a non-shared server option. On the other hand, if this doesn't sound like you, and you're just dipping your toes into website design and management, it's wise to begin with a more user-friendly, shared server platform as a suitable GoDaddy alternative.