In order for your website to run, someone has to host it on their servers and store the files that make up the website. Globally, there are over 330,000 website hosting providers that businesses can choose from. That's an astronomical number to sort through, especially since they don't all offer the same features. We've put together this guide to help you find the best website hosting provider that offers the features your company needs.
Jump to:
What is website hosting?
Website hosting is the process of storing website files on a server that publishes the site on the internet for visitors to be able to access it. When a user wants to reach your site, they type the URL into the address bar of their browser, and it connects to the server, bringing up the website. Website hosting is only the file storage, although some providers will also include domain registration and a website builder to simplify the process. If they don't include it, you'll have to purchase a domain name before a hosting company will store your website.
Servers are too expensive to own and maintain for everyone who owns a website to have one, so hosting companies purchase servers and store several websites on each one. Then, they charge the website owners a monthly fee to store the files, offsetting the cost of maintenance.
Compare top website hosting providers
| | | | | |
| --- | --- | --- | --- | --- |
| | Free Domain with Plan | Ecommerce Hosting | Cloud Hosting | Email Included with Basic Plan |
| Bluehost | Yes | Yes | No | No |
| HostGator | Yes | No | Yes | No |
| Hostinger | Yes | Yes | Yes | Yes |
| GoDaddy | Yes | Yes | No | Yes |
| DreamHost | Yes | No | Yes | No |
| SiteGround | No | Yes | Yes | Yes |
| Namecheap | Yes | No | No | Yes |
| Hostwinds | No | No | Yes | Yes |
| GreenGeeks | Yes | Yes | Yes | Yes |
Each of the following hosting providers offers a free SSL certificate with a hosting plan and 24/7 support.
Bluehost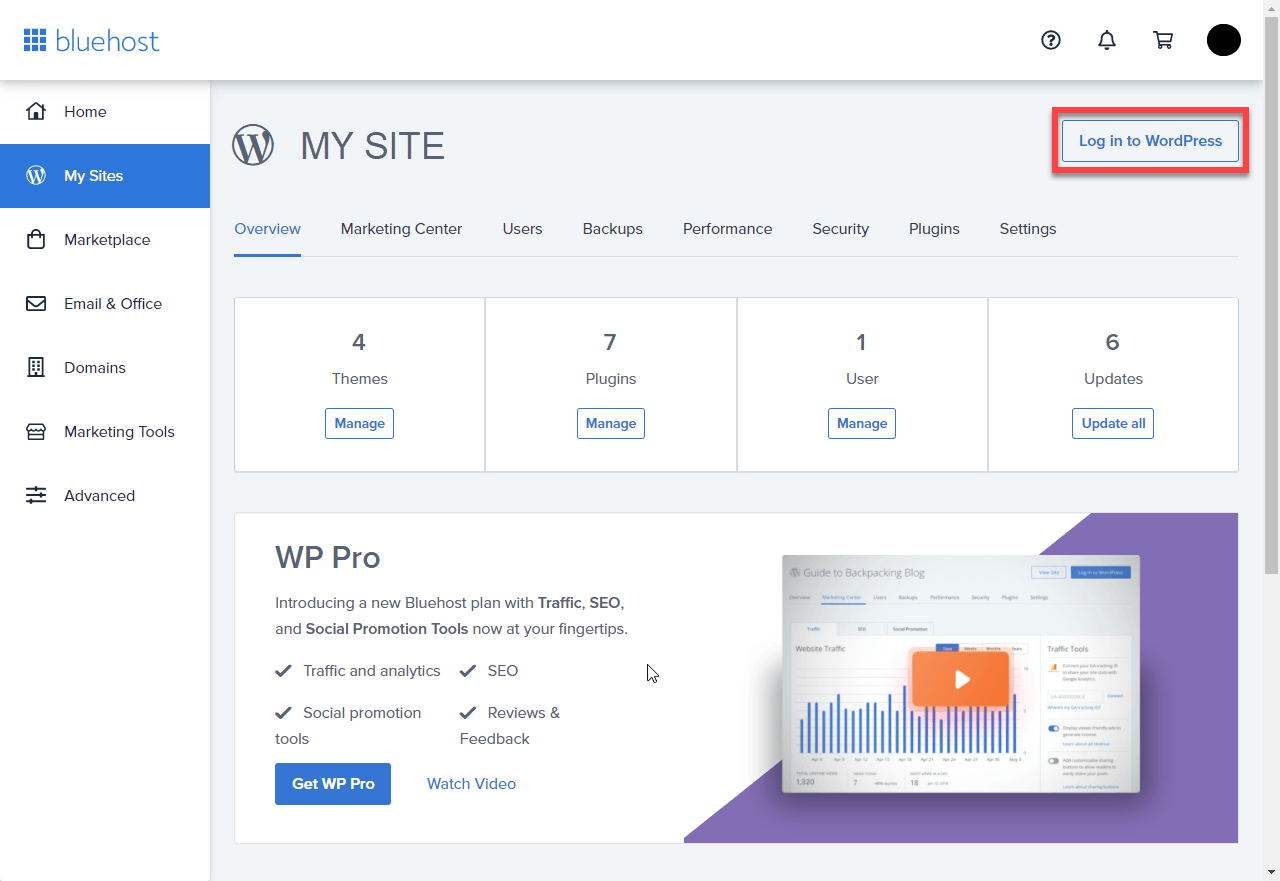 Bluehost is built for business owners who want to use WordPress as their website platform. The new website builder offers customizable themes and a drag-and-drop interface for easy creation. Users can easily edit their sites on mobile, which is great for when you notice a typo after you've already published a change and left the office. Bluehost will also help you kick off your marketing efforts by providing up to a $150 match for Google Ads.
HostGator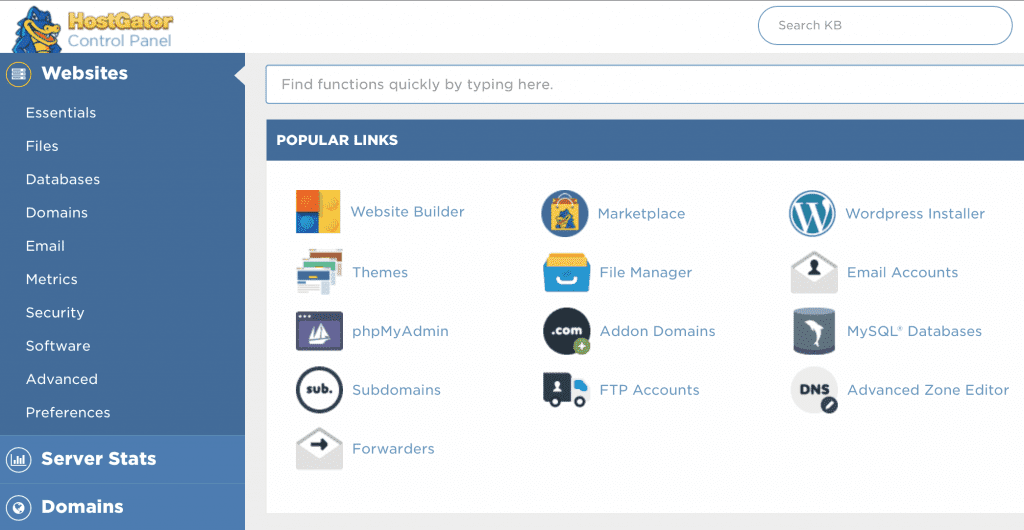 Established in 2002, HostGator offers scalable tools, so businesses don't have to learn a new tool as they grow. It offers a 99.9% uptime guarantee with unmetered bandwidth to keep your website running smoothly for users. Shared, virtual private server (VPS), and dedicated hosting make it easy to find a solution that fits your business. And if you have developers, cPanel access gives them the freedom to make backend changes.
Hostinger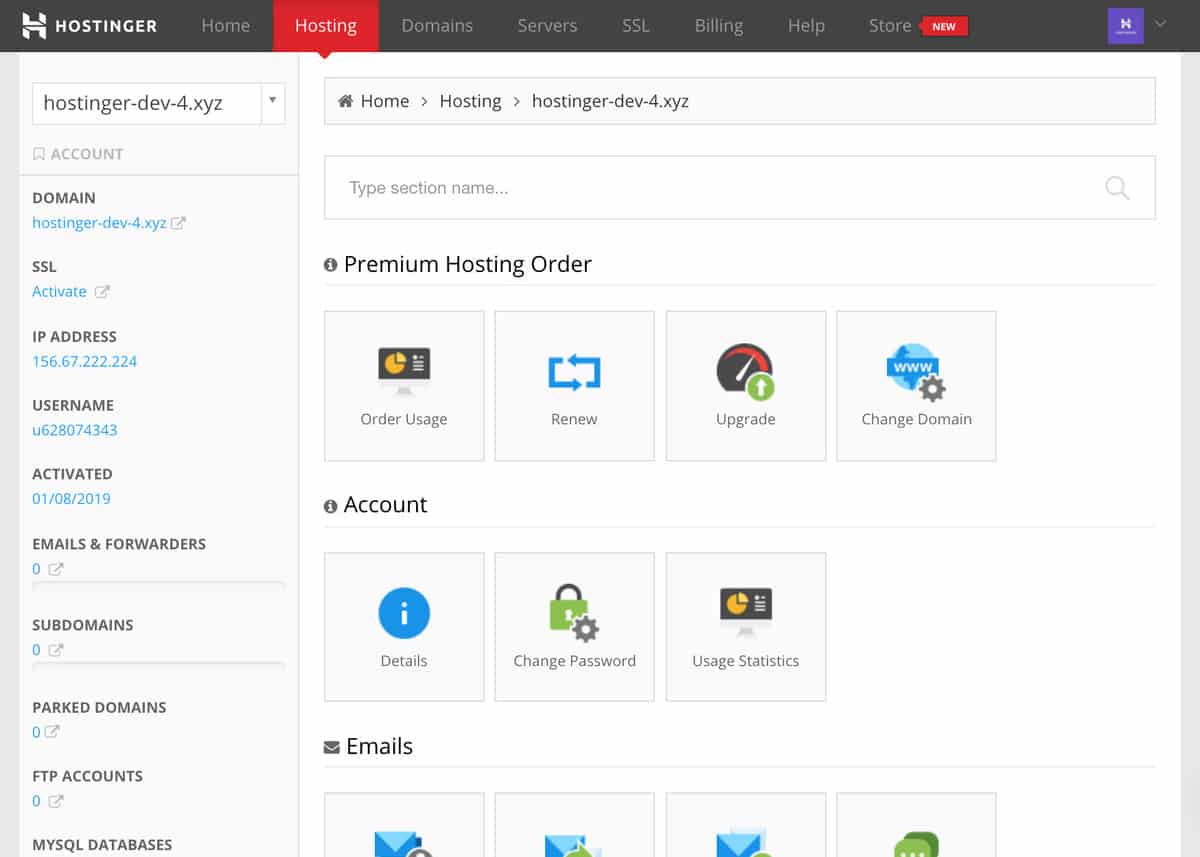 Hostinger breaks their pricing plans down by the approximate number of visits your website can handle each month, helping you determine which plan makes the most sense for your business. Email is included with hosting along with an SSL certificate and DDoS protection to keep your website secure. However, the domain isn't included unless you upgrade from the basic package.
GoDaddy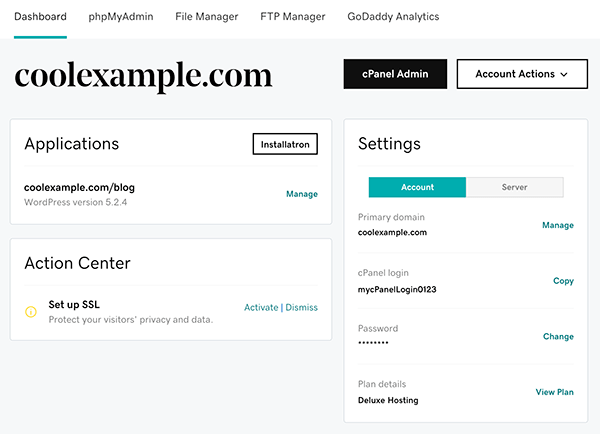 GoDaddy combines domain purchasing, hosting, and a website builder into a single platform. The business hosting plans work great for ecommerce sites and provide the performance you need to add product photos and videos and know your site will still load quickly. Plus, there are over 75 free WooCommerce extensions available to help you set up your online store quickly and easily.
DreamHost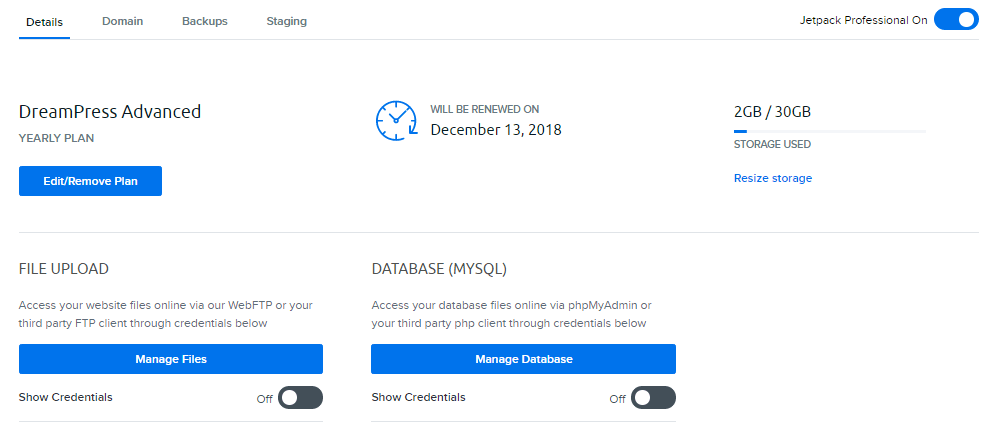 DreamHost has over 20 years of hosting experience and provides a 100% uptime guarantee. Its shared hosting option is great for beginners, while cloud hosting or VPS provide more advanced features to help growing businesses scale. There's no traffic or bandwidth tracking, so you won't have to worry about traffic spikes taking down your website during a sale or promotional period.
SiteGround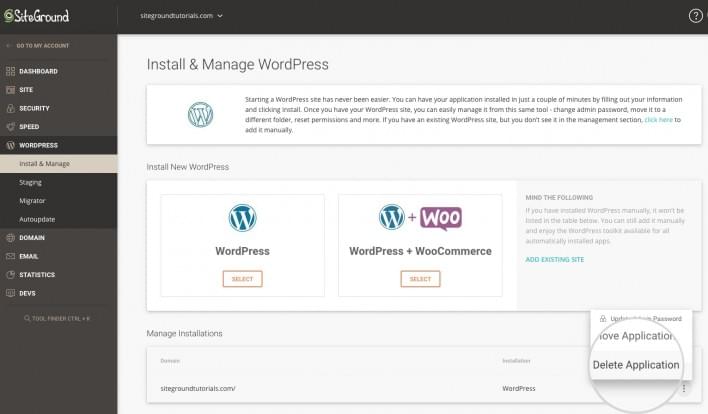 Powered by Google Cloud, SiteGround offers a fast and well-connected network with servers on four continents. Proactive patches and updates keep your website secure and running smoothly with the most up-to-date features. There are even options for WordPress and WooCommerce hosting depending on your business needs. And fully managed cloud hosting provides more hands-on maintenance, allowing you to focus on other aspects of your business.
Namecheap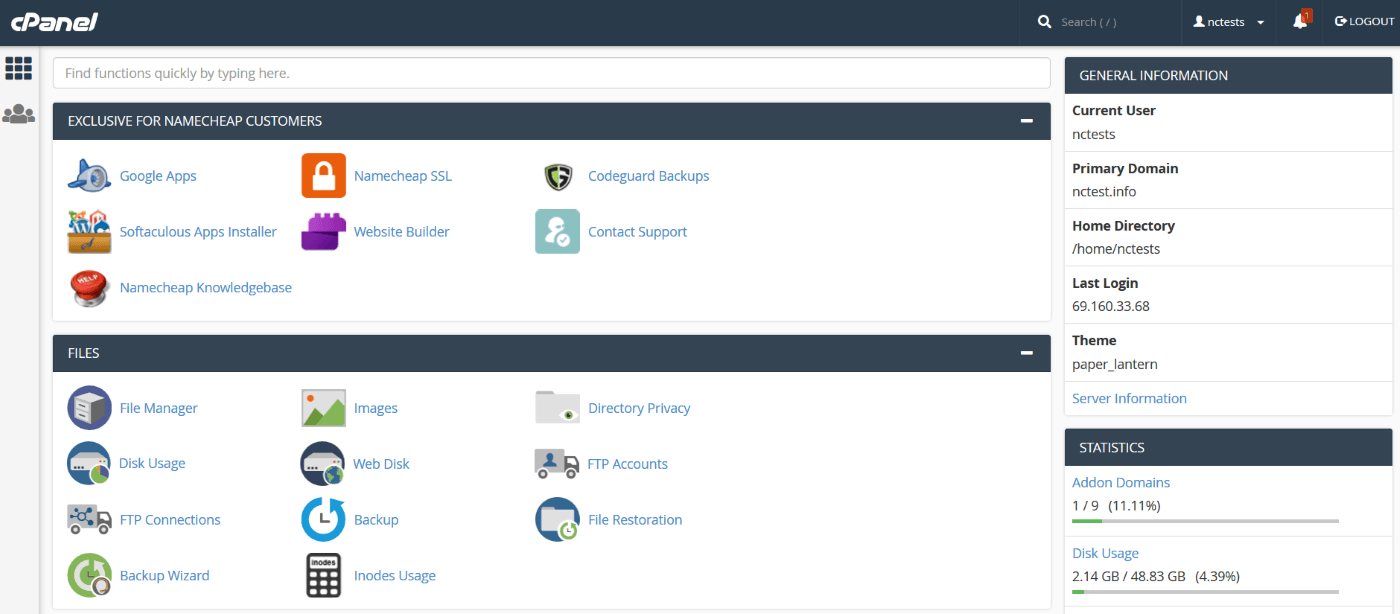 Namecheap includes a free domain with its hosting plans, but you'll have to upgrade past the basic tier if you want a .com domain name instead of something like .site or .online. However, the basic plan does include hosting for up to three websites, while most providers only offer one. The free website builder offers over 200 customizable templates, drag-and-drop functionality, and the ability to import your existing website files and tweak them as necessary.
Hostwinds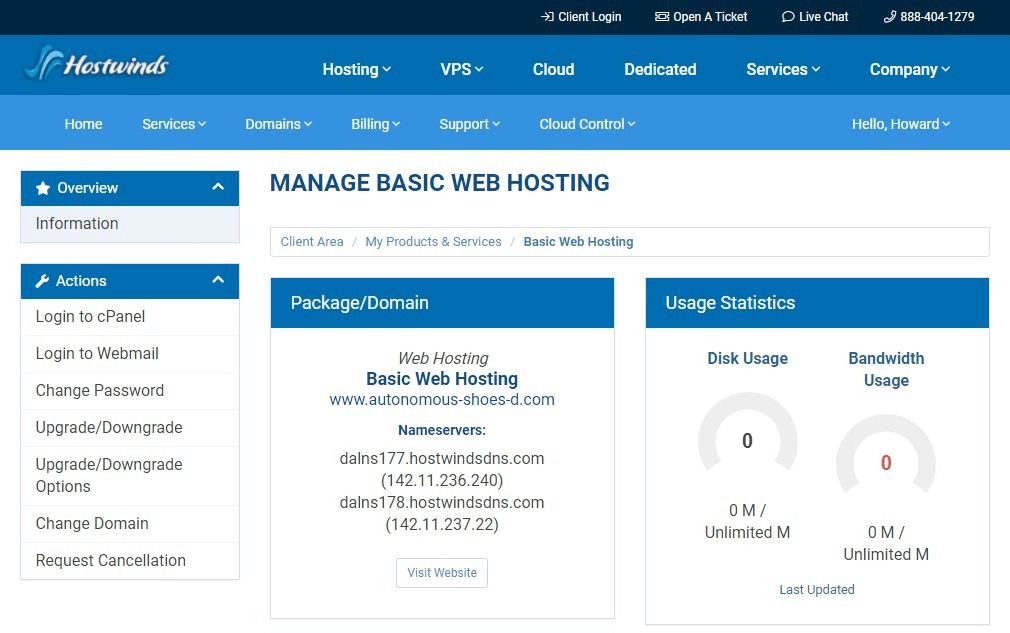 Hostwinds owns all of its servers and systems, rather than renting them, so it retains complete control over system updates and can fix problems quickly. Built-in redundancies ensure that your website will stay live even if a server goes down, helping Hostwinds stick to its 99.9999% uptime promise. The business hosting plans offer free unlimited email accounts, so you can set up all of your employees with their own addresses.
GreenGeeks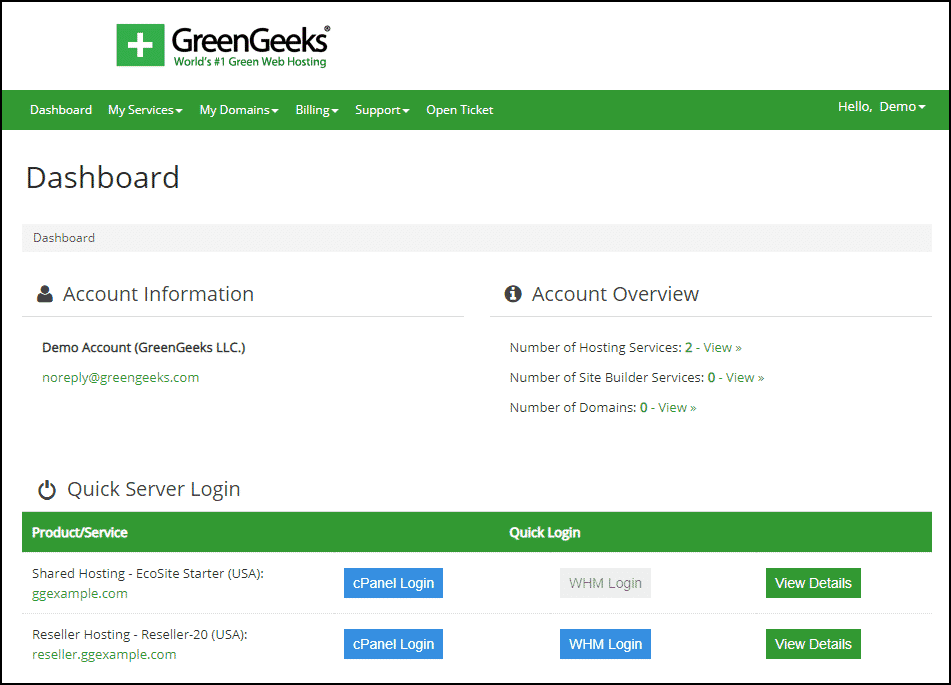 GreenGeeks prides itself on being an eco-friendly hosting provider by offering renewable energy to offset the 300% of the power it consumes. The basic plan is great if you're just starting out, but if you already have an established business, you'll likely want to upgrade to one of the higher tiers to get unlimited web space and email addresses. All of the hosting plans come with a free domain registration for the first year and free nightly backups.
Website hosting vs. website design
While they may seem similar, website hosting and web design are very different, although some hosting providers do offer website builders within their platform. Web hosting is strictly the storing of files after they've been created. It's a subscription-based service where customers pay a monthly fee, and the hosting company provides storage and maintenance. There are also usually service level agreements (SLAs) in place to reimburse the website owner in the event that the website goes down due to server issues.
Web design, on the other hand, is the process of creating the website files that the hosting company will store. It's something you can do yourself or decide to outsource, depending on your level of design knowledge. Web design can sometimes require coding knowledge, although drag-and-drop builders like Squarespace and Wix have made the process much easier. If you decide to outsource your web design, you'll likely pay a one-time fee once the designer has finished the project, or they may break it up into a couple of installments to make the cost more manageable.
Common features of website hosting tools
Here are a few of the features you should look for when choosing a hosting provider.
Email hosting
Email hosting is especially important for businesses, so employees can have professional-looking email addresses. Instead of using free domains like @gmail or @outlook, you can get an email address like name@company.com. This adds credibility to your brand when dealing with customers.
Website builder
Not all website owners will have the coding knowledge to build their own website from scratch, and outsourcing can be a huge cost for small businesses and hobbyist websites. Because of this, many hosting providers also offer website builders to help you build the website you need in a way they know will be compatible with their servers. Building a website in this way may not have all of the customization options you want, but it's generally cheaper and easier.
Also read: Top Web Analytics Tools & Software
FTP access
File transfer protocol (FTP) access is essential for website owners who don't plan to use the hosting company's website builder to add pages to their website. With FTP access, web designers can create new web pages using their tool of choice and then upload the files to the hosting company's server. Business websites will need the flexibility and customization that FTP offers.
Also read: Top 6 FileZilla Alternatives for SFTP Clients
Control panel
A hosting provider should give you the ability to add and remove email addresses, change account passwords, and perform other simple administrative tasks without submitting a support ticket. Going through support can be time-consuming, and depending on your contract, it may cost you extra. The control panel should also work well with your existing IT software to make updates easier.
24/7 support
Websites don't wait to go down during business hours, so you need to make sure your hosting provider has 24/7 support. You don't want to send them an urgent email at 6:00 PM only to get an automated response that someone will respond within 24 business hours. That's a long time for your website to be broken and a lot of customers you could lose.
Benefits of web hosting
Choosing a third-party hosting provider is much better for most businesses than trying to do it in-house. Here are a few of the benefits you can expect to see.
Less overhead costs
With third-party website hosting, you don't have to pay for a whole server or employ IT specialists to maintain it properly. Instead, you pay a monthly fee that's easy to budget for. Support and maintenance are also included in the cost of hosting, as are any software or hardware upgrades.
Reliability
Most hosting companies provide SLAs that guarantee a certain level of uptime. They'll often put the key performance indicators in their SLAs as well, so you can see how their past performance measures up to your expectations. Service level agreements are also a guarantee for the hosting company's performance, meaning you'll likely be reimbursed for extended periods of downtime from a problem on their end.
Security
Third-party hosting typically keeps your website separate from the other IT resources your company uses, which is a big plus for securing your business. Websites are public-facing and are often huge targets for bad actors looking to access personally identifiable information. Additionally, hosting providers usually make updates as soon as they become available and invest in better security tools than small businesses could afford on their own.
Choosing the best website hosting provider
There are thousands of hosting providers to choose from, and narrowing down that list can be a daunting task. To find the best website hosting provider for your business, check user reviews and service level agreements to ensure a company has the performance requirements you need. You should also determine whether you want to design a website using a builder or through code and HTML. This will determine whether you need FTP access and whether a hosting company's support team will be able to help you.
If you're still not sure which hosting company is best for your business, you can give us a call at 877.702.2082 to speak with one of our experienced Technology Advisors.
Read next: Enterprise Search Engine Optimization Tools