Updated for 2021 with 4 new dashboard options.
Digital marketing campaigns generate a lot of data, from high-level revenue reporting down to program and channel-specific metrics. This data is a prerequisite for measuring ROI and campaign effectiveness, but that doesn't mean it's easy to understand.
It's not uncommon for marketers to use a dozen different tools (third-party analytics apps, custom back-end systems, elaborate Excel spreadsheets) to track program performance and activity levels, and still only achieve a cursory understanding of how marketing initiatives connect with business goals.
These investments in disparate tools cost money, and if they don't yield actionable intelligence, that becomes wasted money. Marketing can have a large budget for data analytics but most currently use less than a third of the data at their disposal to make their strategy decisions.
Best dashboard tools
Keep reading for the best marketing dashboards, but if you want to aggregate your data into one place and avoid wasting its hidden insights, we've compiled a list of the best overall dashboard tools.
The Beauty of Marketing Dashboards
Marketing dashboards pull data from multiple sources in real time and display it in a single location. They provide an at-a-glance summary of how campaigns are performing, giving both marketing specialists and C-level executives a single source of truth, and the ability to drill down for deeper investigation.
Marketing dashboards typically place most of their emphasis on reporting. They use dynamic visual aids (charts, graphs, heat maps, scatter plots, timelines, etc.) and plain text to illustrate a variety of key performance indicators (KPIs) and other data points. Here are some common examples:
Revenue (by channel or program)
Opportunities and prospects
Conversion rates
Lead pipeline/lead-to-cash flow
Geographic data (based on IP address)
Demographic/firmographic trends
Source tracking (organic search, paid media, site referral, social, email)
Content engagement metrics (visitors, open rate, click-through rate, bounce rate)
Attribution modeling (how various touchpoints shape customer journey)
Although there are some exceptions owing to the diversity of the software market, there are mainly two ways you'll encounter marketing dashboards.
Standalone BI Dashboards: In this case, the dashboard(s) will be part of a separately-purchased business intelligence application. The app will essentially draw from whatever sources you tell it to, whether that's your CRM, website, social media profiles, Adwords account, or marketing automation platform. Since they're dedicated exclusively to business intelligence and pull from different sources, standalone tools usually provide a more unified, bird's-eye view, but they do require an added expense.
Marketing automation (MA) platform: Dashboards built into a marketing automation platform can provide more precise, granular views of specific campaign elements, but may require some critical thinking to piece together on a high level. The obvious benefit here is that you won't have to pay for an additional system (assuming you already use marketing automation software).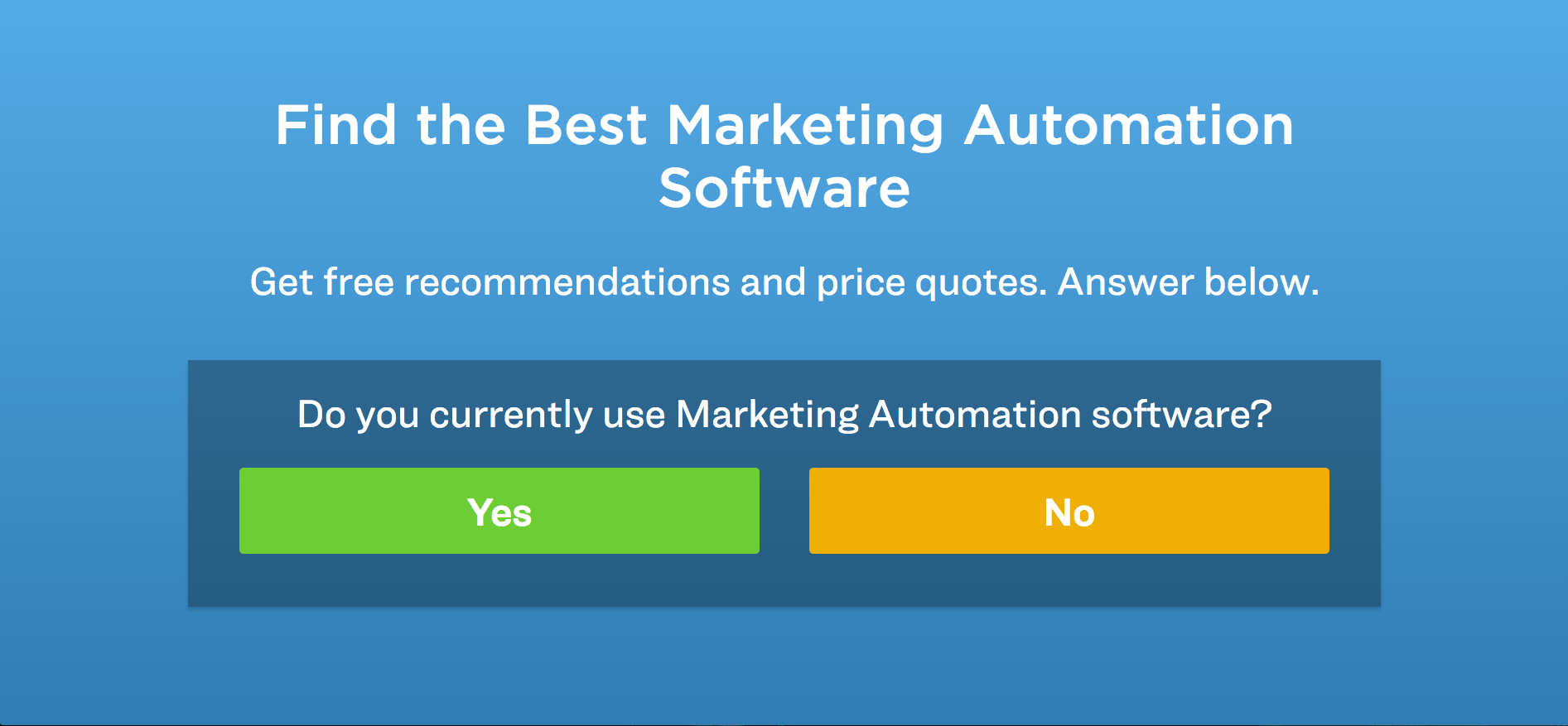 Marketing Dashboard Factors for Success
The best marketing dashboards will share some common characteristics. If you're shopping for a solution that's sustainable and easy to use, make sure it lines up with these attributes:
Easily customizable: A marketing dashboard should reflect your business priorities and role in the department. Many platforms allow users to customize dashboards by dragging and dropping widgets onto the interface. Certain higher-level data may be restricted to managers or executives using role-based access controls.
Mobile-friendly: There aren't many marketers left who only work from the office. It's important to have access to real-time insights whether you're at work, at a conference, or doing a little after-hours catch up from home. Don't invest in a marketing dashboard that isn't mobile optimized — either through a native app (which is typically preferable), or at least a mobile web interface.
Scalable: Scalable means the dashboard can expand as your data projects grow and become more resource-intensive. It also means the dashboard will easily accommodate a wide variety of data sources. It should offer flexible APIs for custom integration and out-of-the-box compatibility with essential systems such as your CRM, marketing automation, ERP, and accounting software.
Please note that some of the links below are affiliate links and at no additional cost to you, we will earn a commission.
TEN OF THE BEST SOLUTIONS
Standalone BI Dashboards: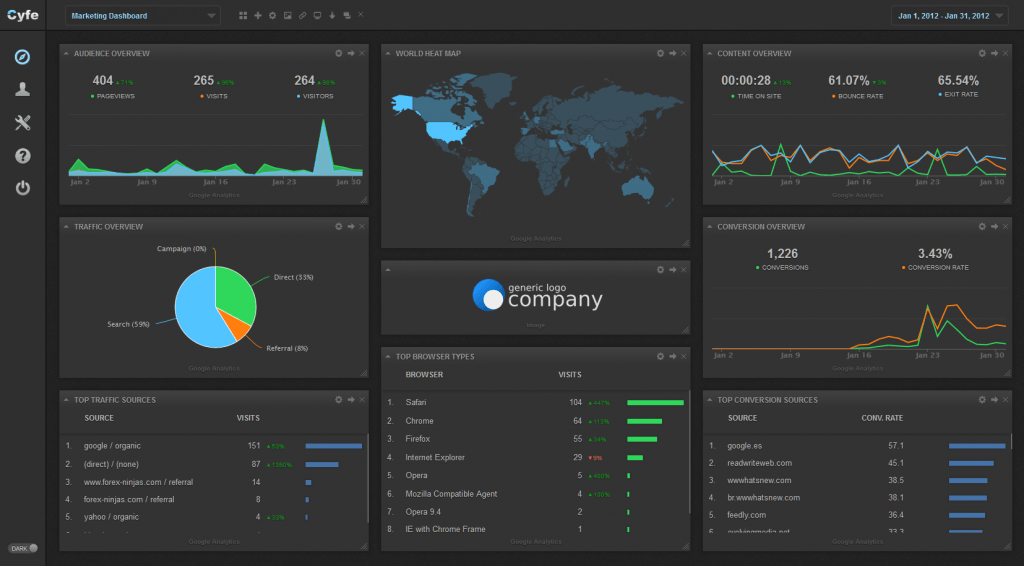 Cyfe is a web-based, all-in-one business dashboard that brings together data from marketing channels, web analytics, finance, sales, social media and more. The dashboard is free to use with up to five different data sources, but also offers a premium edition for businesses with more intensive needs (unlimited data, exports, user accounts, public URLs, etc.). Cyfe can also draw directly from many different services without requiring you to set up a subscription — like Moz web analytics, keyword ranking data, and social media networks. Leave a review for Cyfe.
Unique features:
No data limits (with premium edition)
TV mode
Branding customizations
Historical data archiving
Cohort displays (e.g. for customer retention tracking)
Pre-built integration with over 60 popular services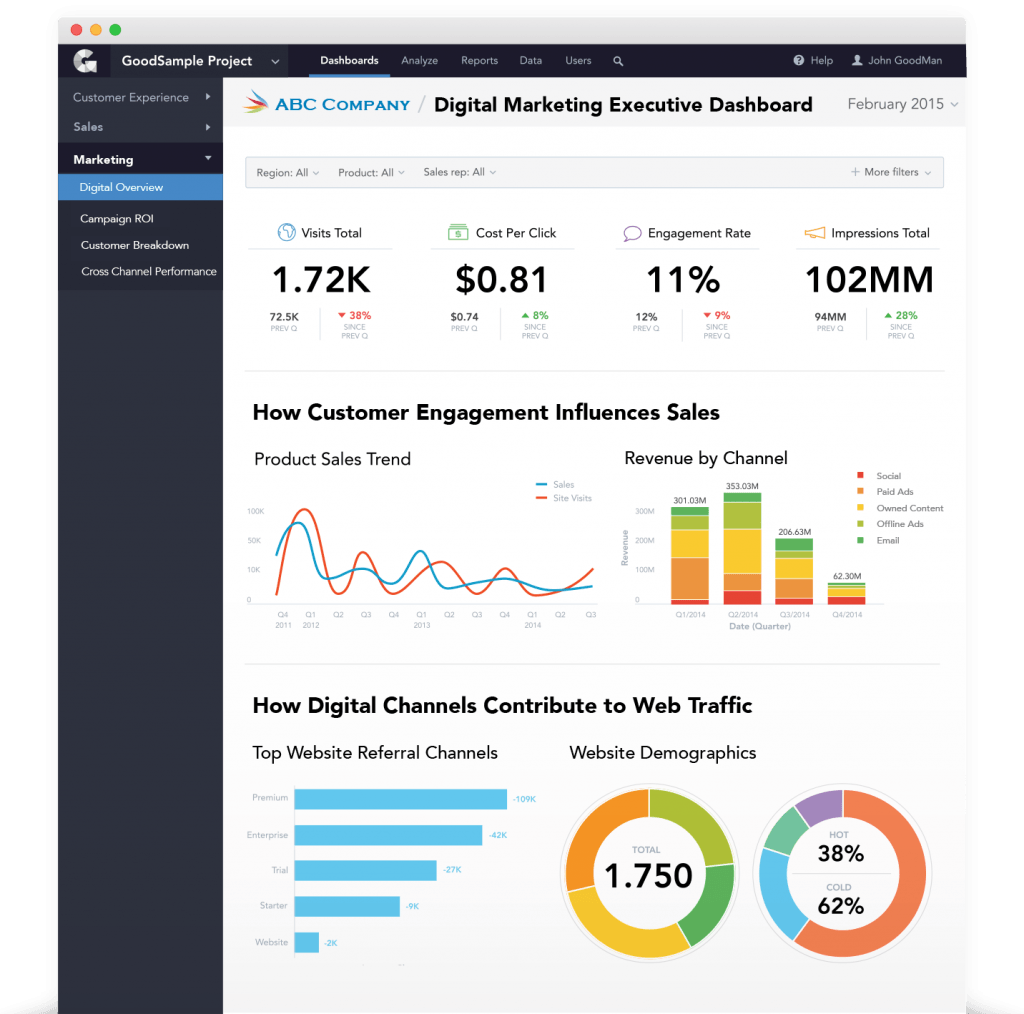 GoodData is a cloud-based BI platform that specializes in "helping marketers understand their customer's behavior and needs." Their interactive dashboards use visualization tools and self-service discovery to help decision-makers understand marketing's overall impact on the business, as well as gather tactical insights for specific campaigns and programs. GoodData's solution for marketing analytics offers custom attribution models, channel ROI analytics, and conversion funnel tracking. Leave a review for GoodData.
Unique features:
Drag-and-drop interface
Guided analytics/forecasting
Industry benchmark comparisons
Website demographics
Closed-loop ROI analysis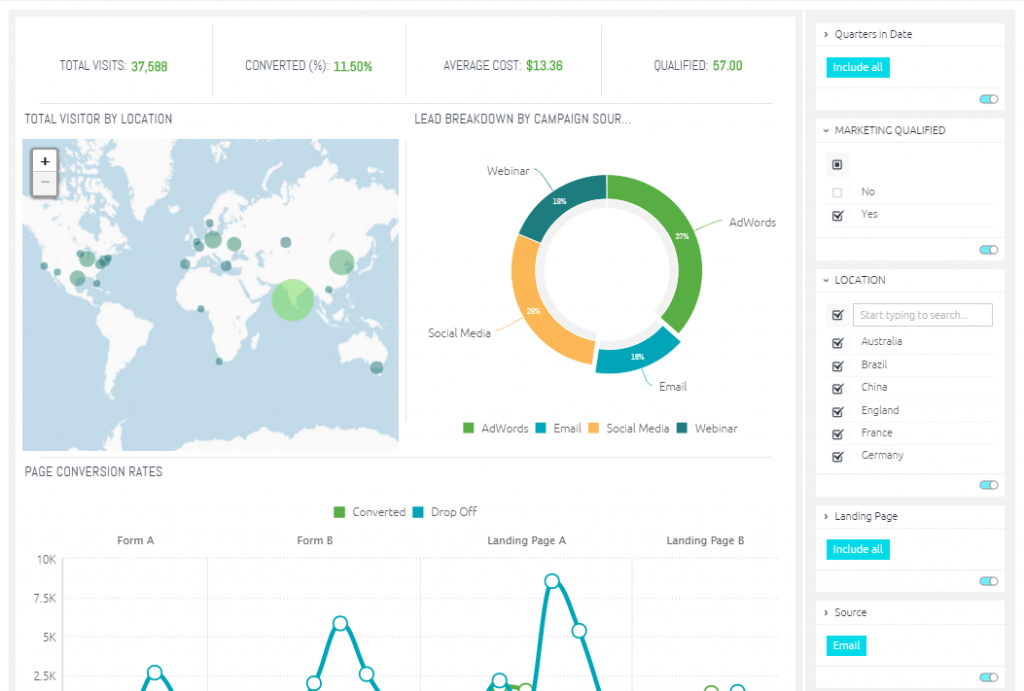 Sisense is a business analytics dashboard designed to help non-IT pros visualize and understand their data. It collates and organizes data from multiple sources through built-in connectors, a drag and drop interface, and custom filters. Visualization features include geographical maps, KPI gauges, line charts, scatter plots, and pie charts. The built-in connectors provide plug and play compatibility with popular marketing apps like Salesforce, Adwords, and Google Analytics, and Excel. It also offers a specific configuration for lead generation analytics. Leave a review for Sisense.
Unique features:
Drag-and-drop interface
Built-in connectors
"Elasticube" database (speeds performance at the terabyte scale)
Role-based access controls
Automatic alerts
Optional refresh scheduling
Tableau is an online or on-premise data visualization tool that's a leader in the business intelligence field because of its innovation and stable platform. Expect beautiful charts and graphs, competitive pricing for everyone from nonprofits and public use to enterprise corporations, and tons of real-time data sources. Tableau features a vibrant community making connections to everything from GitHub and .CSV files to Fitbit and Spotify. The connections community provides open source documentations to get as many data sources as possible into Tableau, meaning that if your data connection doesn't exist you can make it yourself (or with the help of a developer). Leave a review for Tableau.
Unique features:
Community-supported library of data connections
Access to public data sources
Embedded analytics to share your insights anywhere
Cutting edge visuals
Consistent software upgrades
Grow.com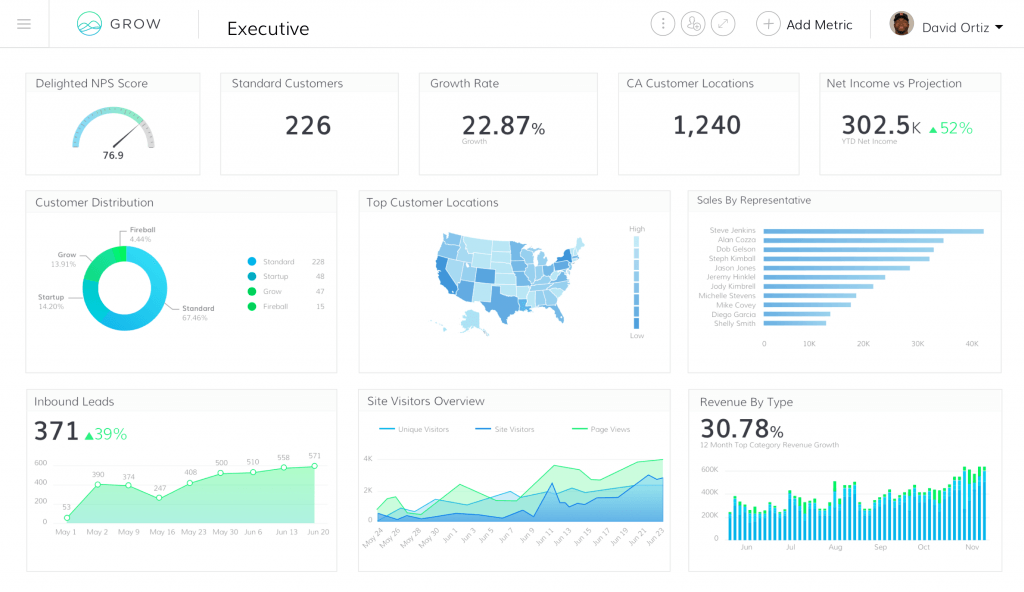 Grow.com gives marketers access to powerful dashboard and business intelligence reporting with real-time data. Connect to the tools in your marketing stack and Grow.com will automatically pull data into dashboards for the most up-to-the-minute reporting. Customized branded reports mean that agencies can build client-specific reports to share and C-levels can bring together data from across campaigns. The platform is designed to make data analytics accessible across a company, so there's no coding needed, faster implementation, and anyone can learn to analyze data.
Unique features:
Mobile app access
Over 150 integrations
Visual editors with no coding needed
Unlimited users
Unlimited real-time data updates
Marketing Automation with Built-In Dashboards: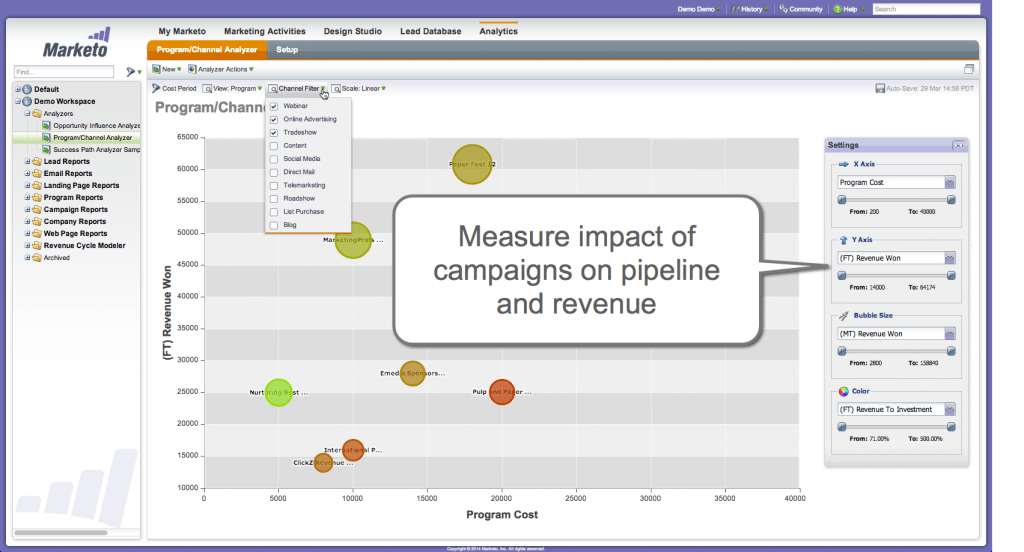 Marketo is one of the biggest marketing automation vendors in the B2B space, with over 3,000 customers and an estimated 21 percent share of the market. Their software comes with numerous  out-of-the-box dashboards and custom reports for analyzing cross-channel campaign revenue, comparing your results against competitors, monitoring the lead funnel, evaluating email campaigns, and more. Dashboards can be customized according to user role and are displayed under the "Analytics" tab in the web application. Leave a review for Marketo. (Note: for a list of comparable Marketo alternatives, check out this article)
Unique features:
Revenue Cycle Modeler
Opportunity Influence Analyzer
Historical data archiving
Funnel builder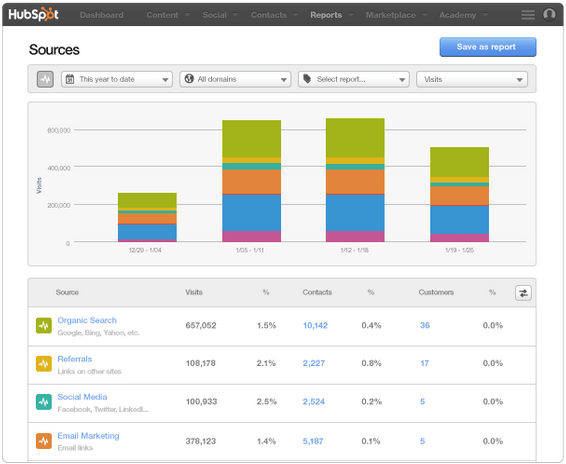 Hubspot is a cloud-based marketing automation platform built primarily for B2C inbound marketing, although it does have a full range of lead management features. HubSpot offers a number of ways to visualize marketing data, including an overview dashboard and numerous on-demand reports (revenue analytics, channel performance, email analytics, lead/sales funnel, attribution, sources). Leave a review for HubSpot.
Unique Features:
Revenue by persona
Call-to-action reporting
Funnel analytics
Email list analytics
Native mobile app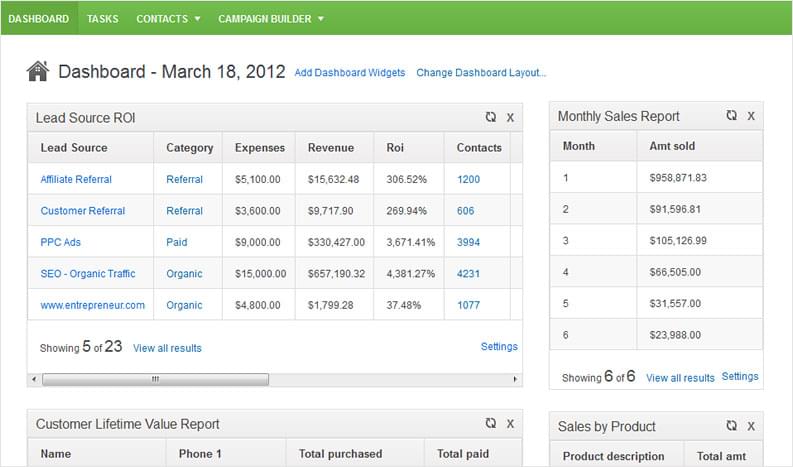 Infusionsoft is a complete sales, marketing, and ecommerce solution for designed for small teams. The marketing automation side of their platform provides dashboard analytics through its reports tab, which includes web, social, and email stats, campaign visualization, and lead tracking. Although Infusionsoft's analytics are less sophisticated than other solutions, it still provides good overall value, considering a single subscription price covers marketing automation, CRM, ecommerce, and basic BI. Leave a review for InfusionSoft.
Unique features:
Dashboards integrated across CRM, marketing, ecommerce, sales
CRM usage stats
Add-on marketplace
Native mobile-app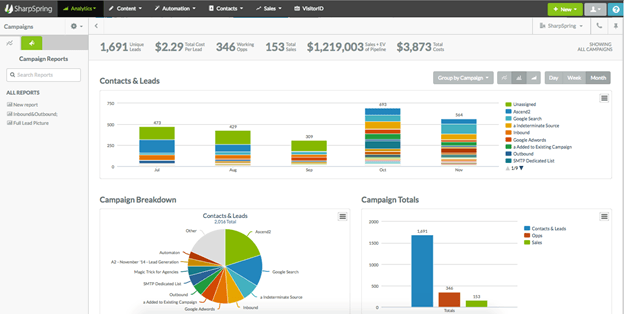 SharpSpring is a full-service marketing automation tool for agencies and businesses designed to nurture more leads and increase revenue. The software brings together sales and marketing automation to help companies build campaigns, pipelines, and automated workflows that drive more sales. The marketing automation tools include intelligent email, web lead, and campaign tracking tools with powerful analytics and reporting to spur growth. Analytics and reporting are ROI-driven, letting companies track exactly how their campaigns payout and where efficiencies can be found. Leave a review for SharpSpring.
Unique features:
ROI driven analytics
Automatic campaign tracking without conversion funnels
Integrations with Google Adwords and Analytics
Behavior tracking with custom automations across multiple devices
How Did You Hear About Us tracking for offline campaigns
ActiveDEMAND is a marketing automation software for individual marketers and agencies. Because it's designed with agencies in mind, the tool is built to manage many marketing campaigns within a single interface. The marketing automation features cover nearly every type of marketing your agency can do from call tracking and appointment setting to event marketing and website multivariate testing. Reporting does not disappoint, either, as scheduled reports, alerts and notifications, and branded reporting combines with visually interesting drag and drop marketing reports. Leave a review for ActiveDemand.
Unique features:
Call tracking
Dedicated social media and email dashboards
Automated reports run when scheduled
Pricing and feature packages based on agency or marketer needs
Behavior segmentation
Dynamic and personalized content capabilities
_____
Still having trouble deciding? Use our product selection tool to see a longer list of dashboard solutions that match your needs. From there, you can access user reviews, feature lists, video walkthroughs, and more.