JIRA is one of the most popular project management tools on the market. And though it was originally designed as an agile methodology tool for software developers, people who do all kinds of work use JIRA today.
Whether you're looking for a new project management tool or you're just getting started using JIRA, this article tells you everything you need to know about using JIRA for project management. You can also learn about JIRA by watching our walkthrough and review video below.

If you are looking for a new project management tool, JIRA is a good choice, but it isn't the only option out there. For more information on products like JIRA, check out our project management software page or contact us for a free, five-minute consultation. After learning more about your business's needs, we'll provide you with a shortlist of the best project management tools for you. (Article continues below.)
Which JIRA tool?
JIRA spans a number of software offerings, including IT service desk, project and issue tracking, and enterprise planning, but JIRA Core is for project management.
JIRA Core combines visual workflows, dashboards, and a wide array of integrations and add-ons to customize and simplify your project. Supported project types for JIRA are business-focused and can be used in many different departments, including sales, marketing, product development, HR, and others.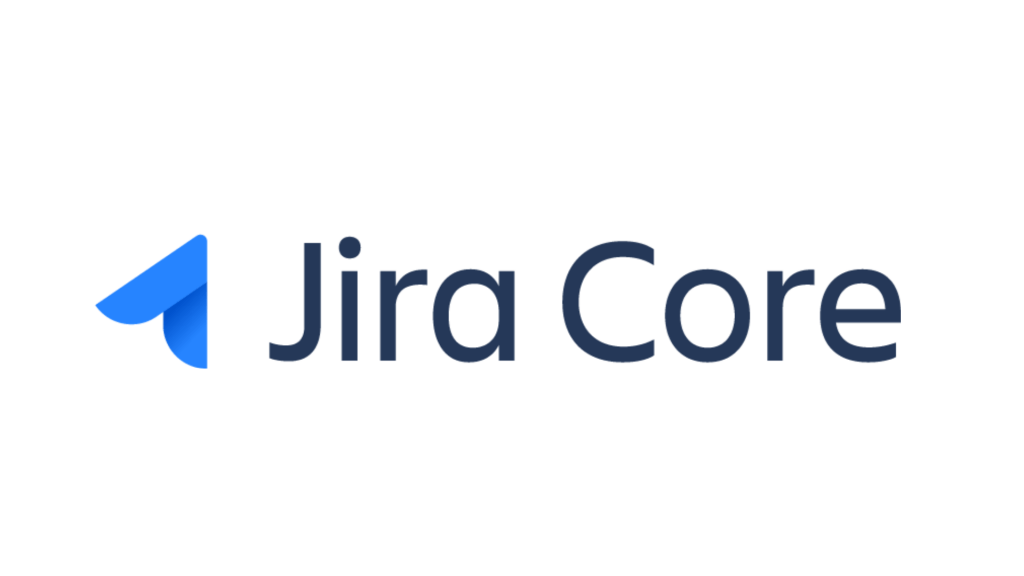 You can integrate JIRA Core with other Atlassian products like Confluence, but JIRA Core also integrates with third-party apps such as Slack, Adobe, GitHub, Google Drive, and more.
Creating a new project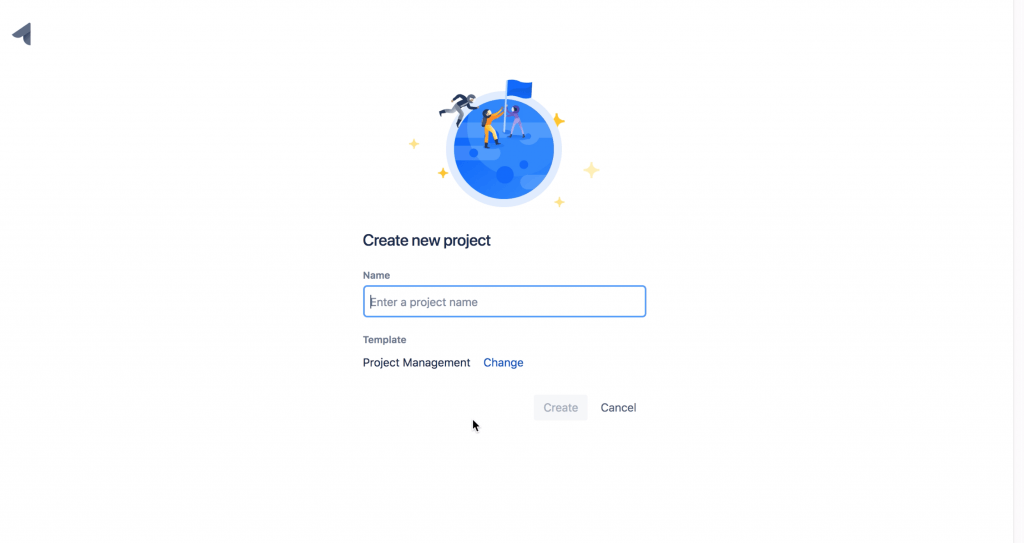 After you create an account, JIRA prompts you to build your first project, either with your own data or with JIRA-provided training data. You can choose from a number of project templates, including recruitment and lead tracking. If you don't want to use a template, you can create your own workflow with the option to save it as a custom template.
Also Read: How To Get The Most Out Of Your Project Management Software Free Trial
Here are the most common features you should familiarize yourself with after creating a new project.
Summary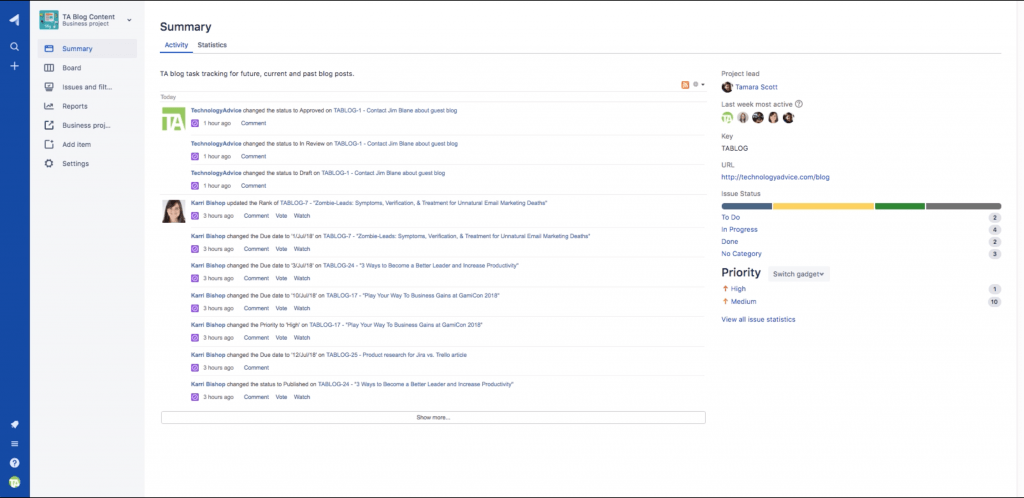 The summary section provides an overview of what's going on within your project. Information under the activity subsection is visualized by a timeline. This subsection also identifies the project lead and gives quick counts of issue statuses and the number of high versus low-priority issues.
Clicking on the statistics tab shows you project and issue progress in a visual and quantifiable format. This is particularly useful for goal-setting and for getting a quick visual of your project status.
Using boards in JIRA Core Cloud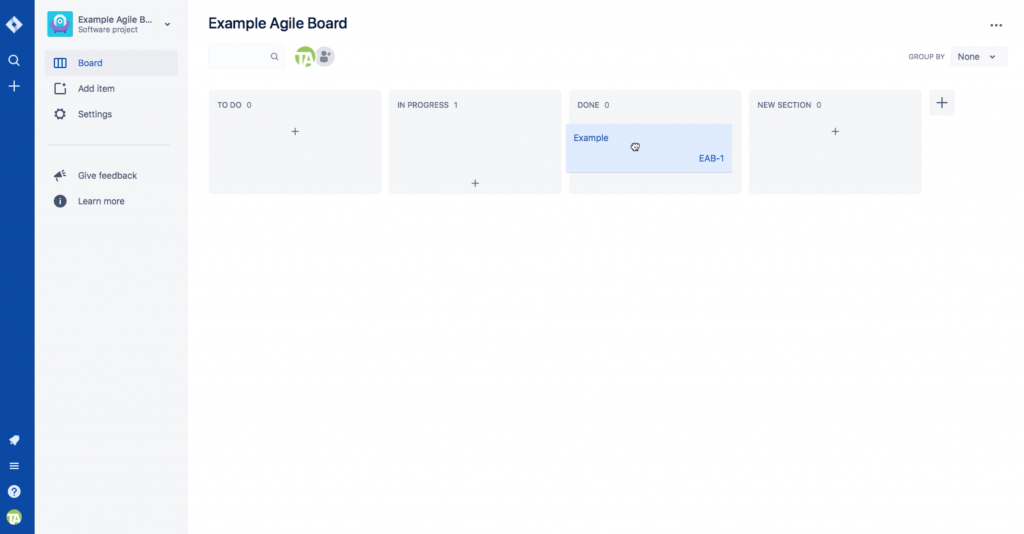 If you've ever used Trello (another Atlassian tool), then JIRA Core's boards feature will feel familiar. Currently, boards are only available in JIRA Core Cloud.
Boards in JIRA Core are a Kanban-style way to visualize project workflows and to manage tasks within a project. The workflow templates you choose dictate lane names, but you can create custom boards as well if you want to create and name your own lanes.
Each lane is filled with cards that JIRA calls "issues." Move issues across the board as you make progress on them. You can also sort the board based on your assigned issues and on what is due any given week. The board view of issues is very basic, but you can find a much more in-depth view in the issues and filters tab.
Issues and filters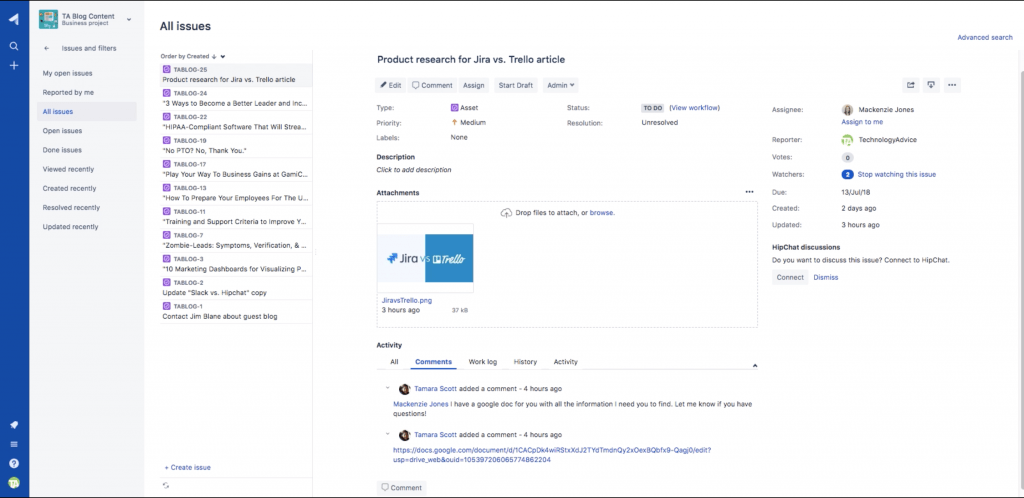 Navigating to the issues and filters tab shows you a list of the issues within your specific project and allows you to filter them by a number of criteria. You can use the submenu within the left-hand navigation sidebar to set viewing filters on issues.
You can perform many actions within issue cards themselves that make collaboration easy. These include:
Assigning tasks
Leaving comments
Prioritizing issues
Labeling issues
Attaching files
Viewing issue history
Reports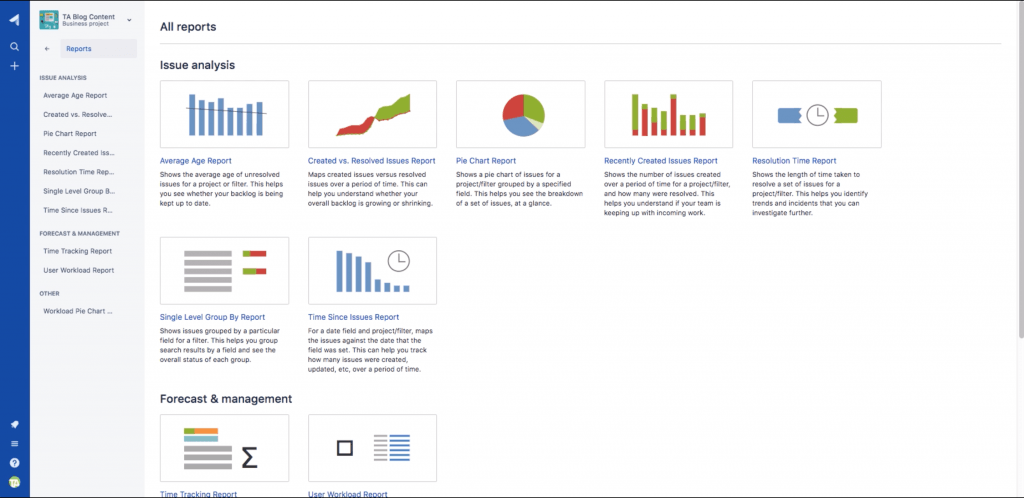 JIRA Core also offers a reports feature, which allows you to make sense of the data in your project.  There are three main types of reports you can generate here:
Issue analysis
Forecasts and management
Other
Within these report categories, you can generate reports to see the average age of unresolved issues, see how long it takes on average to resolve issues, get estimates on how long it will take team members to resolve issues assigned to them, and more.
The reports features don't currently allow you to export reports to other tools, but you can easily work around this by installing an app from the Atlassian Marketplace.
Homepage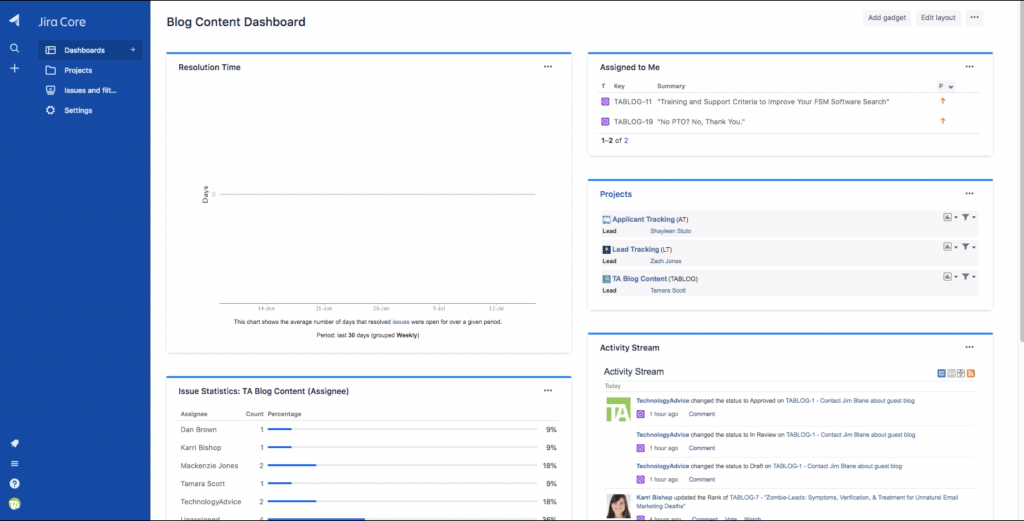 For a bigger-picture look at everything your team is working on, visit the homepage within JIRA Core. This page lets you view and customize dashboards to see large overviews of multiple projects and issues. You can also view rundowns of all the projects you're working on in addition to controlling permissions and roles within the administration page.
When it comes to project management software, you don't want to settle.
If you're in the market for a new project management tool, TechnologyAdvice has your back. For a free, five-minute consultation, call us at 877.822.9525 or email us at info@technologyadvice.com to get a shortlist of the best tools for your business's needs. Otherwise, feel free to visit our project management software page to learn more about JIRA and over 200 other vendors.