A field service company relies on its schedule and dispatch team to keep it running. A good scheduling system means on-time technicians, no double-booking, and the right technician for every kind of job. A bad scheduling system can result in chaos and loss of revenue.
In case that's not enough to convince you, here are four benefits of scheduling software for field service management companies:
Saves time for the office because updates are sent to employees automatically, you don't have to call, and employees can self-serve their own updates from their calendar.
Reduces problems with customers because of scheduling conflicts or missed appointments.
Better uses technicians' time, scheduling them to jobs based on location or specialty.
Reduces lost revenue due to customer dissatisfaction for long wait times and wrong-fit technicians.
These eight software options bring outstanding scheduling features to your field service management company.
Jobber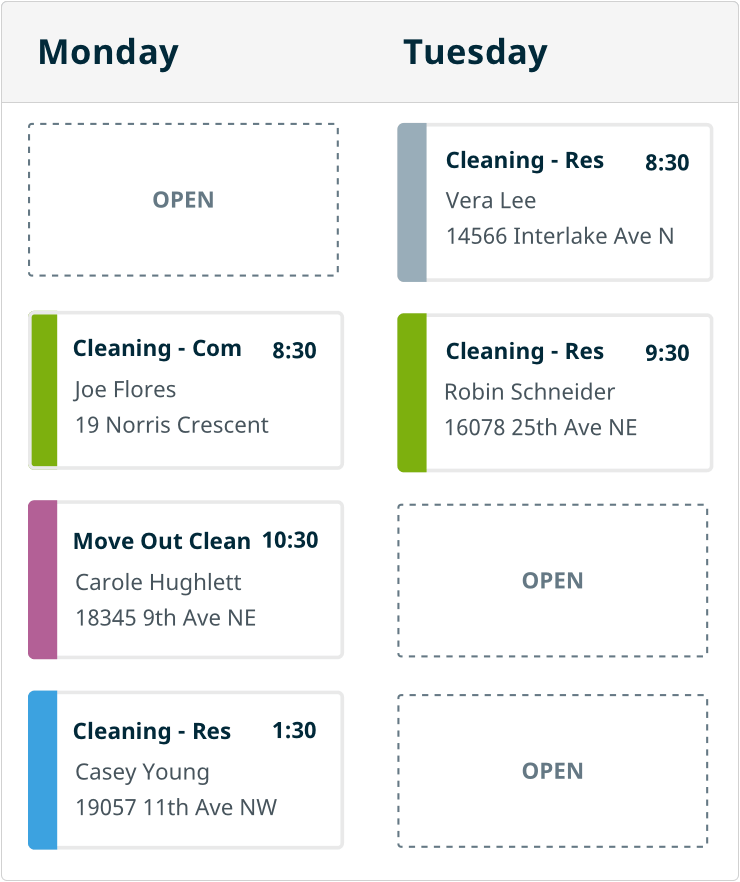 Jobber handles recurring jobs and scheduling for multiple technician types. It shows your schedules in a list, calendar, and map views. The scheduling features are just part of a total business system with features for the customer, technicians in the field, and business managers in the office.
Standout Feature
The drag and drop scheduler lets teams quickly build timelines and push notifications to the team of canceled or moved appointments.
IFS

IFS is an enterprise-grade field service management solution available as a stand-alone option or part of a larger galaxy of IFS software including ERP and 10 custom applications. The Dynamic Scheduling Engine (IFS DSE) uses algorithmic decision making to automate over 90 percent of scheduling decisions.
Standout Feature
Dynamic Scheduling constantly monitors jobs to react quickly to changes in schedules and capacity.
simPRO

simPRO combines GPS tracking and cloud mobile technology to streamline your communications and reporting needs into a single interface. Technicians access their schedule, invoice customers, and complete reports from their mobile device. Automated schedule notifications and a complete runsheet keep employees informed.
Standout Feature
Team scheduling lets you schedule several technicians for similar jobs at once, saving time and reducing manual errors.
Workiz
Workiz is a full-service field service management solution that covers you from job scheduling to tracking and office work. Use custom fields to track customers throughout the scheduling and reporting tools. Set customer and user rules in the interface and these will sync to the calendar.
Standout Feature
Workiz provides you with a website widget where customers can schedule their next appointment directly from your website. This feature also works as a separate landing page if you don't have a website.
Vcita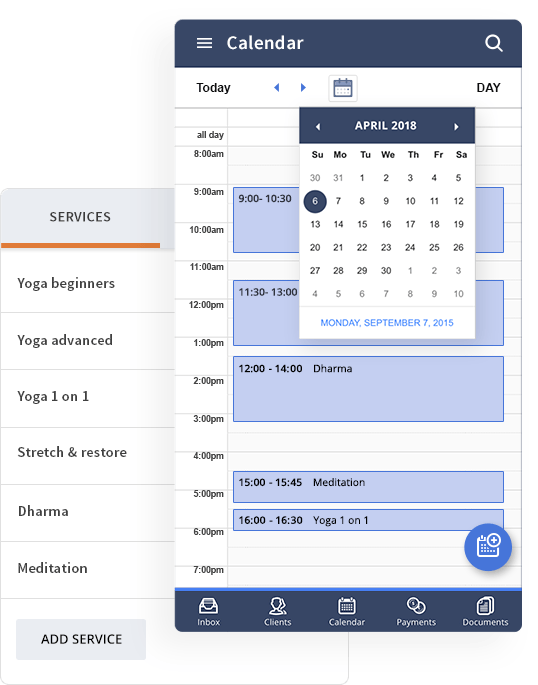 Vcita is a lightweight software solution for client management. It is not specifically designed for field service, but it includes scheduling, customer relationship management, online payments, and a customer portal. It's perfect for startup field service companies with a few mobile technicians.
Standout Feature
Vcita also includes event scheduling and marketing solutions, an important feature for companies looking to provide educational events as part of their content marketing strategy.
Kickserv
Kickserv is a full-featured field service management solution for growing companies. Use the resource calendar and the dynamic scheduling to ensure you don't overschedule or under schedule technicians. The office dashboard provides insight into current jobs, leads, and potential revenue all in a single interface.
Standout Feature
Kickserv combines a project management software with your field service schedule with the ability to add multiple team members and multiple events to every job.
MHelpDesk
MHelpDesk hopes to automate as many field service management processes as possible. The scheduling options provide recurring jobs and technician views. The scheduling syncs directly with a mobile Google calendar. Choose from many industry-specific products for the option that best fits your company.
Standout feature
MHelpDesk gives techs access to full job details and their daily schedule right on their mobile device.
RazorSync
RazorSync is a multi-featured field service management solution with Quickbooks integration and mobile payment capability. Use drag and drop scheduling to quickly line up appointments, and follow up with branded forms. The ability to schedule recurring jobs helps you build your maintenance programs.
Standout Feature
RazorSync includes the ability to assign jobs as low-priority, giving the whole team the flexibility to pick up these tasks between scheduled appointments.
—
Didn't find what you're looking for? We have 95 field service management solutions to choose from, or you can contact one of our Technology Advisors today for a free-five minute tech assessment. They'll give you a list of 5 FSM apps that have the features you're looking for. Give us a call at 877.702.2082.
Top Field Service Management Software Recommendations